About the artist
I was born in Stratford-upon-Avon and travelled widely before coming to study Art and Art History in Oxford, later settling in Oxfordshire. At college I worked in drawing and dry media, printmaking and paperworks, but never in paint. I taught myself to paint much later.
My natural medium is watercolour, but I also use acrylics and acrylic inks, and very much enjoy the processes of printmaking using the drypoint technique. Recently I have been drawing and painting maps.  Good drawing and vibrant colour are the cornerstones of my work. I especially admire van Gogh, Gauguin, Hockney, Matisse, and 17th century Dutch and Flemish artists.
I am endlessly fascinated by the natural world, science and history. I am an obsessive traveller, and what I encounter when I'm out and about in the world frequently inspires my art. But there is plenty of inspiration at home in England and rural west Oxfordshire especially.
As well as being an artist, I work in marketing, communications and PR. During my varied career I have worked for charities, in education and in the private sector. Notable jobs include: horseback cattle-musterer,  petrol pump attendant,  international student advisor, and life drawing teacher. I am married to photographer Moth Clark and have a grown-up daughter and son, a step-son and two awesome cats, Skipper and Officer Dibble.
"Jane has, over the years, produced a body of the most life affirming, colourful and magical contemporary art around. Scenes and depictions of subjects, mostly drawn from the natural world, occupy a beguiling hinterland between realism and the magical and as such, bestride detailed observation and whimsical imagination with delightful results.
There's humour present, especially in Jane's detailed but almost otherworldly maps of places that offer an unfamiliar view of the familiar."
Russell Bloor
Photographer and art lover, Manchester, UK

Would you like a unique, original painting made as a precious gift to mark a special occasion? Or perhaps you have a particular wall space at home or in the office that seems empty?
A commission costs much less than you think, and the pleasure of having something made especially for you will last a lifetime.
Get in touch with me to discuss what you want; the subject matter, the reasons why you want it, the colours, the dimensions, the medium you'd prefer, who it's for and as well as deadlines. I can organise framing for you, then all you have to do is give it (or keep it!), it hang it, enjoy it.
Commissions typically cost anywhere between £150 to £500 depending on complexity, size, time taken and so on. Tell me what your budget is and I'll let you know what's possible.
Find out more about commissions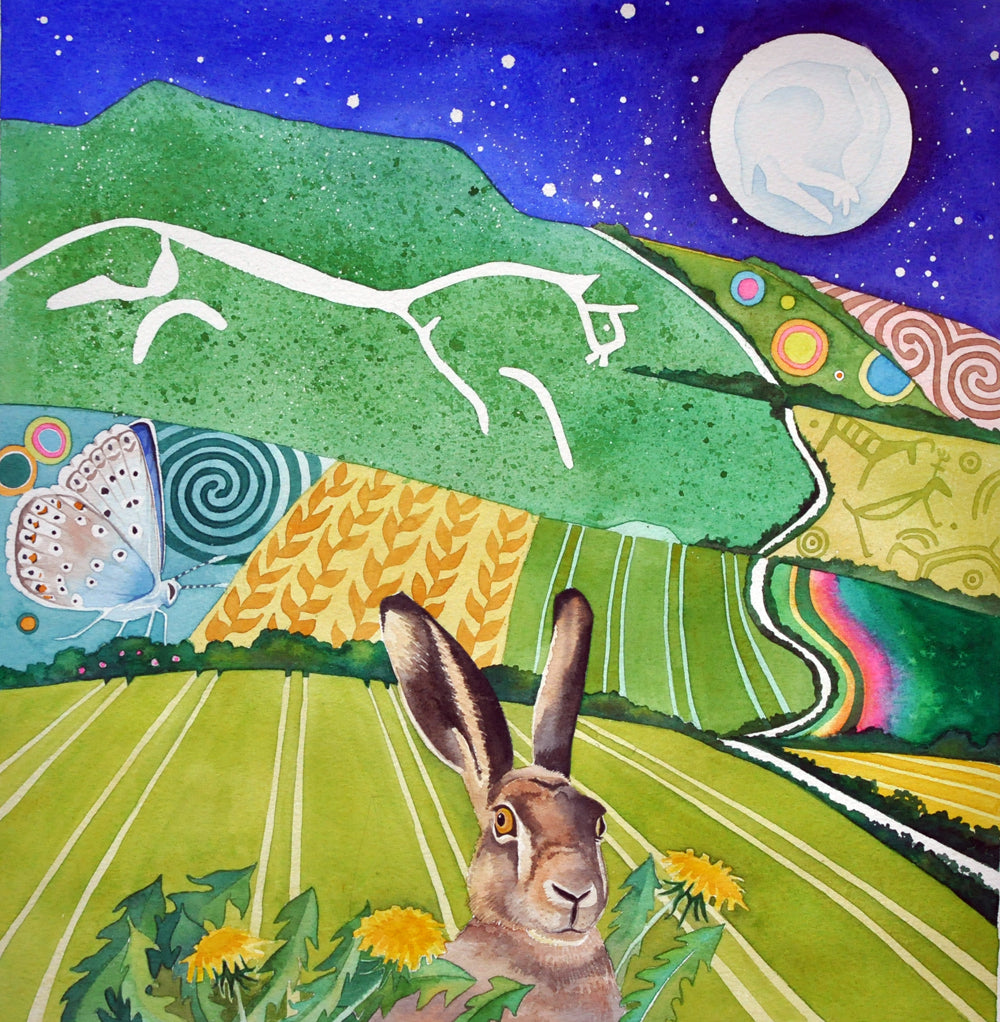 I exhibit my work only a few times each year.
I show paintings in the Bartholomew Room in Eynsham Square four times a year as part of the Eynsham Arts Group exhibition series.
I also show as a member of West Ox Arts in the Town Hall in Market Square, Bampton.
But my main show every year is in May, for Artweeks.
Artweeks 2017
… is over for 2017! I exhibit from my home in Eynsham, West Oxfordshire, for Artweeks, Oxfordshire's annual visual arts festival. every May.
My next exhibition for Artweeks is in May 2018. If you can't wait until then, then arrange a private view at your convenience.
My husband Moth and I warmly welcome all visitors. Disabled people need only negotiate one tiny step. Very well-behaved doggies will be much-fussed, especially if they don't chase our cats. Parking's easy and the tea and coffee flows freely. Cuppa? We'll be right here.
So much to see in Eynsham
During Artweeks there are always other artists exhibiting in Eynsham at the same time as me, so make a day of it and come and inspect all our work as we exhibit collectively in the village. Discover the artistic riches in our beautiful village: potters, jewellers, painters, printmakers, sculptors – we've got them all. You'll be amazed and delighted.
My Eynsham Artweeks trail map, designed is published here in March every year. It's designed to make it easy for you, dear Visitor, to find your way around and see everything our village has to offer.
"I was so fortunate a few years ago to meet Jane during Artweeks. Jane's art is amazing. She puts her whole self into her work, but mostly her heart. In her work you see her vibrant, astounding love of life. It is fulfilled with a wondrous imagination and an incredible amount of detail." – DiAnne Perkins, Texas