Attention all shipping – exciting products imminent!
The popularity of Jane's shipping forecast painting shows just how deeply this daily poem to the weather around our islands is embedded in us. You may have read that it recently even won an award from the British Cartographic Society.
The words "And now the Shipping Forecast, issued by the Met Office on behalf of the Maritime and Coastguard Agency…" mean something magical to so many of us. And sometimes having art on your walls just isn't enough… so Jane just had to make it the centrepiece of her new venture into offering beautiful and useful items for the home.
Jane says "Attention All Shipping is my favourite painting of everything I've done, so of course, I love the entire range of shipping forecast goodies! I find it hard to choose which I like best of the cushions, tea towels, aprons, mugs and greetings cards so here I am holding as many of them as I can!"
These British-made items make a unique addition to any home, as well as being colourful, unusual gifts. They're also educational – I for one didn't know where many of the more exotically named shipping areas were! South Utsire, anyone?!
So here's my quick guide to the products (with some handy facts about the Shipping Forecast thrown in!):
"Humber, Thames. Southeast veering southwest 4 or 5, occasionally 6 later. Thundery showers. Moderate or good." The shipping forecast's staccato delivery, the mystery of those magical names, and the concise lyrical quality of the facts conveyed have an appeal way beyond what they are broadcast for – to save lives at sea.
The Shipping Forecast apron is for anyone who's like Jane's emergency Dad, Michael. He's an experienced yachtsman who's always loved the shipping forecast for its poetry and for keeping him safe. Being at home in a pinny as an excellent cook, he can now combine it with his culinary exploits!
"Gale warning issued. Viking, North Utsire, South Utsire, Forties, Cromarty."
On my map, the land is occupied by great swathes of rolling typography based on the terms used in the shipping forecast – they're not value judgements of the places where they appear!
Jane's first nephew, Alex, likes to keep a weather eye on his comfort with a Shipping Forecast cushion.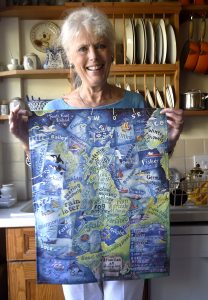 "Shannon: South veering west later, 5 to 7. Rough or very rough. Rain, showers later." The shipping forecast gives the sea area, followed by wind direction and strength on the Beaufort Scale, the state of the sea, the precipitation or weather and then visibility. Changes in wind direction are expressed as 'veering' (clockwise) or 'backing' (anticlockwise).
No matter how wet things get in the kitchen, Jane's mum Janet makes sure it'll be 'fair later' with the Shipping Forecast tea towel.
The the shipping forecast begins with any gale warnings that have been issued, then a general synopsis followed by each area's forecast. It is incredibly concise, with a limit of just 370 words!
So in the spirit of the Shipping Forecast, I'll keep it brief and let the very first purchaser of the Shipping Forecast mug do the talking: "I never miss a single broadcast and now whilst listening to my favourite broadcast  I'm able to enjoy lashings of tea in a fabulous new mug. Happy days!"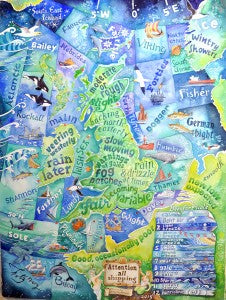 The Shipping Forecast has a long history. In 1861 Vice-Admiral Robert FitzRoy (formerly captain of the Beagle on Darwin's famous voyage) introduced a warning service for shipping in February 1861, using telegraph communications.  It has been broadcast by radio since 1911, suspended only during the two World Wars. In 2002 the area previously known as Finistere was renamed Fitzroy.
Astonishingly, the original painting 'Attention all shipping' was sold before Jane had even finished it, but if you think the wall is the best place for it you can get large prints suitable for framing – it's what we have on our wall!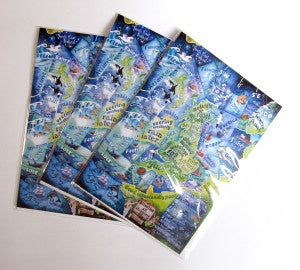 Did you know that HM Coastguards broadcast a 'mini' shipping forecast? They are a similar format and use the same terminology as the Met Office one on the BBC, but the information is usually just for the area covered by the Coastguard Centre broadcasting it.
Everybody loves the Shipping Forecast, so why not keep a stock of Shipping Forecast greetings cards?
Discover how Jane made the painting.