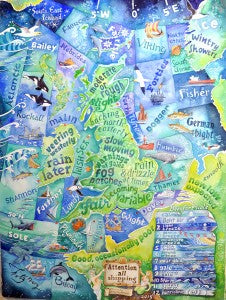 To my utter surprise and delight, my shipping forecast painting, 'Attention All Shipping' (signed prints available here)' has won the John C Bartholomew Award for Thematic Mapping. Winning is a huge honour, and a thrilling compliment for the painting I regard as one of my best works.
On the left, you can see just how astonished I was as Jim Irvine of Harper Collins, presents me with the lovely (and incredibly heavy!) lead-crystal trophy. (Photos by Martin Lubikowski of the British Cartographic Society.)
The award is for "originality and excellence… with emphasis on effective communication of the intended theme". I entered the competition with the encouragement of Mary Spence of the Society. (See photo on right.) Mary likes my work so much that she even did a lovely presentation about me as part of the Society's Annual Conference in Cheltenham!
The conference included a Gala Dinner where the awards were announced. I was delighted to go along, but I didn't imagine for a moment that I would have won…. In fact, one of the proper cartographers told me he thought I also won the unofficial title of "most surprised winner ever".
The judges said:
"Excellent communication of a clear, and much-loved theme through a clever blend of cartography and art. A new, interesting and engaging portrayal, with a clear eye on its romance. Images, text and thoughtful use of terms from the shipping forecast combine to make a highly attractive, and fun product."
If you agree with the judges and want an award winner in your home, there are lots of ways to enjoy the shipping forecast painting!
Read about the making of this painting
Shipping Forecast map wins award news release.
See the article published in the Oxford Times, 22 September 2016.