Hello, I'm Jane Tomlinson. I make art inspired by wondrous things from the natural world. I love colour and careful drawing. And I'm unfeasibly fond of maps.
About the artist
I was born in Stratford-upon-Avon and travelled widely before coming to study Art and Art History in Oxford, later settling in Oxfordshire. At college I worked in drawing and dry media, printmaking and paperworks, but never in paint. I taught myself to paint much later.
My 'natural' medium is watercolour, but I also use acrylics, acrylic inks, gouache and printmaking using the drypoint technique. I especially like making hand-painted maps.  Maps are a neat way of expressing complex ideas. Vibrant colour is a cornerstones of my work. I especially admire van Gogh, Gauguin, Hockney, Matisse, and 17th century Dutch and Flemish artists.
I am endlessly fascinated by the natural world, science and history. I am well-travelled, and what I encounter when I'm out and about in the world frequently inspires my art. But there is plenty of inspiration at home in England and rural west Oxfordshire especially.
As well as being an artist, I work in marketing and communications. During my varied career I have worked for charities, in education, and in the private sector. Memorable jobs include: horseback cattle-musterer,  petrol pump attendant, and life drawing teacher. I am married to wildlife photographer Moth Clark. I have a grown-up daughter and son, a step-son, and two awesome cats, Skipper and Officer Dibble.
Would you like a unique, original painting made as a precious gift to mark a special occasion?
A commission costs much less than you think, and the pleasure of having something made especially for you will last a lifetime.
Get in touch with me to discuss what you want; the subject matter, the reasons why you want it, the colours, the dimensions, the medium you'd prefer, who it's for and as well as deadlines. I can organise framing for you, then all you have to do is give it (or keep it!), it hang it, enjoy it.
Commissions can cost anywhere between £150 to £2000 depending on complexity, size, time taken and so on. Tell me what your budget is and I'll let you know what's possible.
Find out more about commissions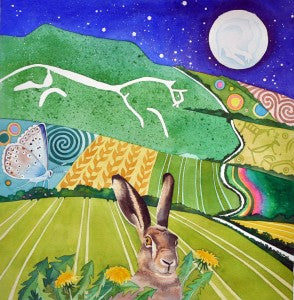 Artweeks 2024
My exhibition will take place in my garden gallery at my home in Freeland, Oxfordshire, OX29 8AG, on Saturday 4, Sunday 5, Saturday 11 and Sunday 12 May 2024.
I will be showing my work alongside my brother Paul's exquisite drawings of townscapes and the built environment.
My exhibition space is a large, light and airy conservatory in a beautiful garden. Come and have tea with us!

Other artists in the Eynsham area will also be opening their doors to show their work for Artweeks, so there will be plenty of things for you to see.
You can still see my online exhibition from 2022.