One of the questions I often get asked is 'how did you make your painting?' 'Where did you start?' Fortunately, I often take photos of my paintings as I go along, so I can show you how 'Attention All Shipping', my painting of the UK shipping forecast, progressed.
The idea was profoundly simple: a straightforward painting of all the sea areas around the British Isles and all those weird and wonderful words we hear in the shipping forecast, our nation's daily prayer warning of us of the awesome forces of nature. I'm British and it's in my DNA. I love it. Despite this, I had no idea where 'Bailey' was. Time to learn!
Sole, Shannon, Fastnet, Lundy and Plymouth
Pictured above: I started by sketching out a simple outline of the British Isles and roughly marking in the other things I want to include – in this case the sea areas, lots of different kinds of ships, wildlife and any other significant things, oil rigs, light houses, etc. Then I get the paints out, which is the very best bit by far. I'm often so keen to do this that I haven't finished the composition. But it usually works. I like making it up as I go along.
From here on, I do things in no particular order – I started with a puffin in Lundy (I can't resist painting puffins) and the Mary Rose, Henry VIII's flagship, in Wight. It quickly became the most joyful colouring-in exercise ever!
Pictured above: The south western approaches: Sole, Shannon, Fastnet, Lundy and Plymouth; there's a basking shark in Sole, a container ship sailing around the tip of Brittany and a yacht racing up to the Fastnet rock.
I tend to try to do whole sections in one go if I can – the North Sea for example pictured right– but I also need to assess tonal balance and colour distribution across the whole painting, so I sometimes flit to other sections to maintain harmony in the colours while they're fresh on my palette.
Rockall, Bailey, Hebrides and Malin
Pictured left, I'm painting in the dangerous waters of Rockall, Bailey, Hebrides and Malin, which used to be astonishingly rich and biodiverse waters, but due to overfishing, pollution and climate change have become much depleted. Despite this, every spring green swirls of phytoplankton still appear. Globally, phytoplankton emit more oxygen than all the world's rainforests, so they are very important! The fish, birds, turtles, basking sharks and other marine life know this and return every summer to feed on this bounty.
You'll also notice a beam trawler in Rockall, and an RNLI lifeboat speeding out to seas in Hebrides, just to the west of the isle of Lewis.
Then it's just a matter of painting, painting, painting… section by section and eventually I reached this point (pictured left): all the sea areas are painted in and I'm left wondering how to tackle the land…  I reached this point alarmingly fast. Maybe three weekends' work.
Veering westerly, rain later, good
So I put the painting away and went back to work on Monday (I'm not a full-time artist) feeling sure that the painting would 'tell me' what to do if I didn't look at until the working week was over. I was right. I would paint in some of the phrases spoken in the shipping forecast: 'rain later', 'veering westerly', 'warnings of gales', and so on. Stark poetry. Big green words.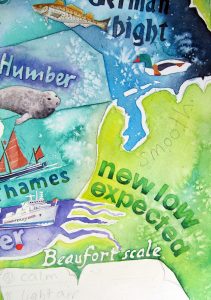 Then it's just a question of which words and what areas. I don't want to you thinking that the words I chose are value judgements on the areas they appear… I couldn't possibly comment. That's up to you.
Beaufort Scale
I finished with an unpainted corner in the bottom right. I had reserved this for something – a key or legend – but wasn't entirely sure what. As the painting progressed, it became obvious that it would have to be a 'cartouche' of the Beaufort Scale, the measure of wind speed  (pictured right).
When the newsreader reads the shipping forecast, they'll say, for example "South Utsire, Southerly or southeasterly 4 or 5, occasionally 6 later". Those numbers mean it's going to be breezy – but not a gale. This is my favourite part of the painting and it happened one Sunday afternoon in June 2015.  Sadly for me, it was finished.

I love this everything about this painting – I love what it represents, I love the words, the colours, the wildlife, the fun I had making it, and I hope you do too. Incredibly, in 2016 it won an award from the British Cartographic Society. Yes! Real professional map-makers loved it too. What an absolute honour!
There are lots of ways to enjoy the shipping forecast painting!