There are a few subjects I return to periodically, and last autumn the urge to paint brown hares (Lepus europaeus) returned to me. As I fancied doing a bit of printmaking, and I began with an idea for a drypoint of a hare with harebells. As I worked out the composition, it ended up as completed painting in its own right. It sold almost immediately. Using the painting on the left, as my template I produced a short edition of hand-printed and hand-tinted drypoints, on the right. These, too, were very popular.
As so often happens, out of one idea leaps another … and another!
Meadow Brown Hares
The meadow opposite our house is full of wildlife, and last summer I was especially impressed with the number of wildflowers growing in it, and the insect life which relied on it. Especially glorious were the beautiful knapweeds – a favourite food plant of the meadow brown butterfly (Maniola jurtina).
As you can see in these little studies above, I couldn't decide how best to express the background, so I had a couple of attempts.
I love black backgrounds – something about putting any colour you like next to black makes it 'pop'. It's also a great excuse to paint stars! But I love the pretty greens morphing through manganese blue to cobalt blue. What's a girl to do? Taking my cue from the bits I especially liked from my studies, I worked them up into a larger piece, Meadow Brown Hares.
The meadow flowers shown are cow parsley, ragged robin, knapweed and chamomile.
Hare-shaped 'folk art' hanging panels for the garden
I thought it would be nice to have a large brown hare hanging on the fence in in our garden. So I created a template, drew it out on a couple of pieces of scrap MDF I had wombled, and my husband very kindly cut them out with the jigsaw. I set about painting them in acrylics, adding little decorated hanging pieces to the lower edge for extra fun.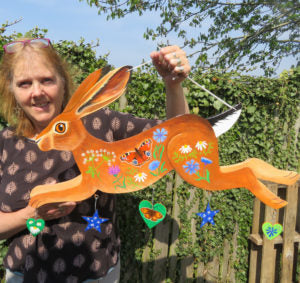 'Spring hare' (pictured left) now hangs on fence above the log store. It was more experimental and is built of less robust materials so he was always the one I would keep.
'Summer hare' (pictured right with me holding him up) is built of thicker MDF and is currently looking for a home. Your garden perhaps?
Finished with 3 coats of varnish, he is showerproof and can stay outside all summer.
While you're here, please enjoy some of my previous brown hare paintings