Enjoy these shipping forecast products – rain or shine
The continued popularity of my Shipping Forecast painting shows just how deeply this daily poem to the weather gods of our islands is embedded in us. Amazingly, it won an award from the British Cartographic Society in 2016.
I had the painting made into some beautiful and useful items for the home. These British-made items make unusual gifts. I have gorgeous signed prints, tea towels, greetings cards,  jigsaw puzzles, and coasters.
Here's my quick guide to the products (with some facts about the Shipping Forecast thrown in, just for fun):
FACT The Shipping Forecast has a long history. In 1861 Vice-Admiral Robert FitzRoy introduced a warning service for shipping in February 1861, using telegraph communications. It has been broadcast by radio since 1911, suspended only during the two World Wars. In 2002 the area previously known as Finistere was renamed Fitzroy.
The original painting 'Attention all shipping' was sold before I had even finished it, so if you think the wall is the best place for it you can get signed prints suitable for framing – it's what we have on our wall – and it brings us joy every day.
FACT "Shannon: South veering west later, 5 to 7. Rough or very rough. Rain, showers later." The shipping forecast gives the sea area, followed by wind direction and strength on the Beaufort Scale, the state of the sea, the precipitation or weather and then visibility. Changes in wind direction are expressed as 'veering' (clockwise) or 'backing' (anticlockwise).
No matter how wet things get in the kitchen, my mum Janet makes sure it'll be 'fair later' with a Shipping Forecast tea towel.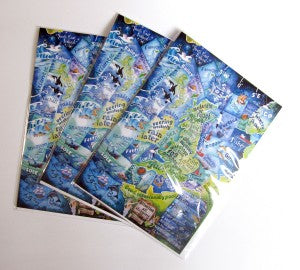 FACT Did you know that HM Coastguards broadcast a 'mini' shipping forecast?
They are a similar format and use the same terminology as the Met Office one on the BBC, but the information is usually just for the area covered by the Coastguard Centre broadcasting it.
Everybody loves the Shipping Forecast, so why not keep a stock of Shipping Forecast greetings cards?
FACT Did you know that there are 31 official sea areas relevant to the UK. The forecast is read clockwise around the British Isles and always starts with "Viking".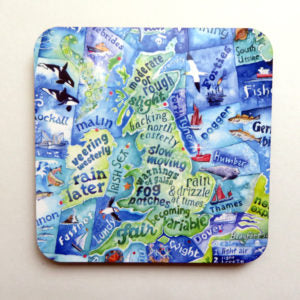 FACT The shipping forecast was invented by Vice-Admiral Robert FitzRoy (who captained HMS Beagle on Darwin's famous voyage) He was appalled at the loss of 450 lives when the Royal Charter was wrecked off Anglesey in 1859.
Watch Jane talking about her painting of the Shipping Forecast