50 things to love about Britain
As an antidote to Brexit, and in an effort to remind myself of some of the things I love about my country, I thought I'd map them in a painting. I hesitated to call my painting Best of British , because somehow that phrase is charged with the kind of patriotic zeal I object to, but that exactly what I've painted.
A2 prints of this painting available here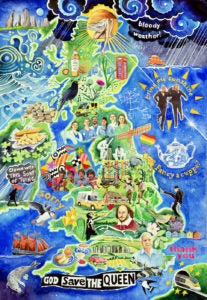 So here goes with my "Best of British" – a painting of 50 things to love about Britain. You may not agree with all my choices, but I hope some of the things you love about Britain are shown. Roughly, going from the top down, and left to right:
Callanish neolithic monument of standing stones on the Isle of Lewis – a phenomenal astronomical achievement which charts the 18 and half year cycle of the moon.
William Blake's God from his illustrations of 'The Ancient of Days."
Neolithic and Bronze Age rock art designs which are widespread in the north of the British Isles. What they mean and what they were for is not known.
Scotch Whisky. A gift to the world!
Bluebells. A joy every April and May!
Telephone box. A glorious, classic design by Giles Gilbert Scott
RNLI Severn class lifeboat. Volunteers save lives at sea every day. Heroic and dangerous work.

Blackbird singing. This bird's song is surely the soundtrack in heaven?
Scottish national flower – thistle
Charles Darwin's initial sketch of the Tree of Life which changed the course of life sciences.

Morecambe and Wise. Best. Comedy. Ever.
Giant's Causeway – Basalt rock formations stretching from Northern Ireland to Scotland, representing the British Isles' extraordinary geology.
An NHS ambulance and health professionals from diverse backgrounds. Heroes and heroines who have been scandalously underfunded in the past decade and yet who continue their amazing work every minute of every day.
Antony Gormley's mighty sculpture Angel of the North
Rainbow flag of gay pride. Everyone should be able to love exactly who they like.
Teapot with Willow Pattern. Fancy a cuppa?
Fish and chips. Salt and vinegar, please.

Northern Irish (and Irish) flower – shamrock
Cricket – surely the most beautiful game?
Pooh and Eeyore, as drawn by E H Shepard
David Hockney's The Arrival of Spring
Stephenson's Rocket – the most advanced steam locomotive of its day which served on the Liverpool and Manchester Railway.
Abbot's Bromley Horn Dancers. I chose this curious folk dance which takes place at Abbot's Bromley every September to represent the local folk memories and customs of British communities.
The Beatles. In My Life, they've always been there.
Dazzle ship camouflage – A genius invention for warships, reimagined by genius British pop artist Sir Peter Blake
"Down with this sort of thing" – from Father Ted. An understated protest. Other commonly uttered British phrases are illustrated: see Bloody weather!, sorry and thank you.
Atlantic puffin. Just because they're marvellous in every way.
Ice cream van. Who can resist the tinkling chimes of Mr Whippy? I can't. Mine's a 99 with raspberry sauce, please.
Anne Hathaway's cottage. I chose the Bard's wife's house near Stratford-upon-Avon (my home town) to represent Britain's vernacular architecture.
Welsh national flower – daffodil
Banksy's Girl with a Balloon. A profound image from one of Britain's finest artists.
William Shakespeare. Obviously!
Uffington White Horse. An elegant tribal emblem, cut into the chalk of an Oxfordshire hillside perhaps 3,500 years ago. Just gorgeous.
England's national flower – the rose, specifically the dog rose
English Oak. Solid, beautiful, the most magnificent of trees.
The Strawberry Thief by William Morris, artist, designer, writer, socialist.
John Cleese from the Ministry of Silly Walks, representing the comic genius of all the Pythons.
Beach huts. A common sight at the seaside and folk architecture at its finest.
Norfolk lavender.

Sir David Attenborough. A legend.
The countryside.
Stonehenge.
Cream tea. Do you put the jam on first?
MG car. From the age of the classic British sports car.
Spitfire aircraft.
White Cliffs of Dover. The gateway to the British Isles.
I chose the Charlotte Rhodes ship – a topsail schooner from The Onedin Line – to represent Britain's seafaring history.
Grey seal (Halichoerus grypus atlantica) British waters are home to 40% of the world's population of these glorious marine mammals.
I chose the graphics from the cover of the Sex Pistols single "God Save the Queen" to represent a healthy cynicism for the self-serving British Establishment.
Euro star train emerging from the Channel Tunnel. An engineering wonder and a gateway to Europe I absolutely love.
A2 prints of this painting available here